With the election quickly approaching, it is important for all students to be well-informed and ready to vote! At Vanderbilt, there are a plethora of opportunities to get involved politically. Here are the top 5:
5. Take a Political Science Class
Vanderbilt offers numerous political science courses–from "Introduction to American Government and Politics" to "National Security." Taking a political science course will allow you to learn more about politics and how different governments, including our own government, work. Also, if you're in the College of Arts and Science, a political science course can knock out one of your AXLE requirements!

4. Party Affiliation Organizations
If you are interested in specific party issues or party affiliation, you can join the College Republicans or College Democrats. Within these organizations, you can talk to people who share your similar beliefs, and have the opportunity to voice your opinion on issues.
3. The Vanderbilt Political Review
If you are interested in sharing your political views with even more people, the Vanderbilt Political Review may be for you. Through the Vanderbilt Political Review, you can write articles about political issues. In addition, there are opportunities on campus to write for The Vanderbilt Torch and GlobalVU, which are also political organizations.

2. Vote in the Vanderbilt Student Government Elections
There is no way to better prepare yourself for voting in the presidential election than to vote for your own Vanderbilt student officers. Some of the elections were held last week, including the elected positions in the Commons House Advisory Council and the VSG Senators, but there are still opportunities to vote or run for other Vanderbilt Student Government positions throughout the school year. It is a great way to have your voice be heard on campus!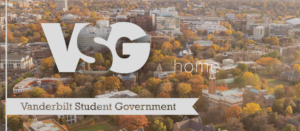 1. Vote in the Election
Not only is voting on Vanderbilt's campus important, but voting in the United States election as well. With the presidential election coming in less than two months, make sure you are registered to vote. For most students who come from other states, make sure you have signed up to receive your Absentee Ballot. It is our duty as bright, young citizens to vote and have our voices be heard!