My best friend and very first roommate, Pia, goes to Notre Dame. Yes … Notre Dame as in the Notre Dame that just narrowly beat the Dores two weekends ago.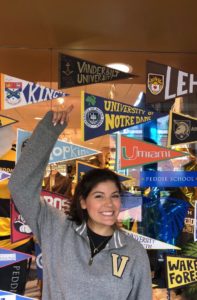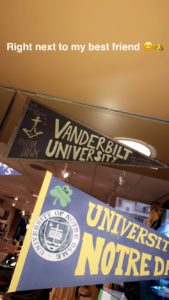 Now, I like watching football, that's true. But this game was different. Unable to make it to South Bend, I marched myself straight from VOB rehearsal in Towers, all the way back to the Commons Center to watch the game. I was exhausted, and yet I was practically running to get in front of the TV for kickoff.
As the game played out, I could tell my excitement was far beyond my normal level. As the Irish crept up to 10 points in the first quarter, my stomach started to ache … I was scared. We were all scared. Vandy had been put on "upset alert" by ESPN's Kirk Herbstreit, and it was hard to ignore … I wanted to win.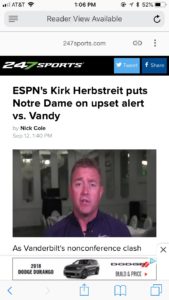 But 10 points? That felt like nothing from the eighth best program in the country.
Fast forward only a few minutes, and a 13 point deficit at half time had me worried. I took a power nap on a Commons couch, walked the 10 feet to Munchie, and got ready for the second-half push. But why was I so invested in this particular game?
As the third quarter crept on and on, I was terrified. Our Commodores just were not gaining the advantages we needed. Holding the Irish down? Yes. Scoring? No … Or so we thought … With 11 seconds left in the third quarter, Ke'Shawn Vaughn pulled the Dores to 16-10 with a 3-yard touchdown. There was potential here. This game was actually winnable.
But, quickly, the Irish responded. 22-10 early in the fourth. Then Vandy scored another to get us to only 22-17. At that moment, an entirely new feeling rushed over my body … something I had never quite felt before. It happened with the sudden realization that the Commodores could seriously beat Notre Dame. BEAT NOTRE DAME? That was huge.
With only minutes left, QB Kyle Shurmur threw a pass to wide receiver #16 Kalija Lipscomb. What had potential to become a game-winning touchdown was deemed incomplete as an ND safety fell on our #16. With only slightly over a minute left, the game against the Irish was decided.
I'm not going to lie, I was disappointed. I realized why this particular game felt so important to me … It was personal. My best friend was sitting at a Notre Dame tailgate screaming about their victory against Vanderbilt … And I was in the Commons Center, gutted.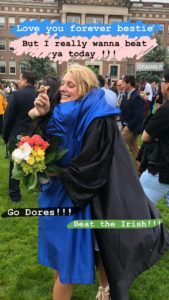 But the Irish win was not Alabama's blowout last year. We held ND down. We gave them a big fight. So why did we fall short? Was it just the Luck of the Irish? Or more than that? I honestly couldn't think of an answer until this past weekend when I ditched my spot on the Commons couch for a spot in the stadium stands.
As I walked in to the stadium, my jaw dropped. NO ONE was there. I mean, in the grand scheme of our undergraduate student body of ~7000 people, we were probably at a whopping 1/32nd of that. Maybe 200 people at kickoff, probably only 70 by the 2nd half.
So, again, why did we fall short? Well, probably because of one word: faith. How did we expect the Dores to pull out a win against the top-10 ND when we didn't trust them? And, once again, how could we expect a win against South Carolina if the stands were empty?
People say that they want a football team that can win in the SEC. But it seems like an unfair expectation if no one shows up to support our team so that they can pull those wins out …
It's sort of a self-perpetuating cycle … We lose against ND, so no one shows up to South Caro. But wasn't part of the reason we lost against the Irish probably because the Commodore fan base didn't trust our Dores enough? And then wasn't part of the reason we lost against SC probably because their fan base easily outnumbered ours (in our stadium)??
This all took me back to Pia. I wanted to beat Notre Dame even more than any other team because it was personal. So, when Coach Derek Mason states that "our [football] culture has got to grow up," how do we do that?
Well, we do exactly this: we have to make it personal. And I think this is exactly what Coach Mason called for in his recent statement that, "It's everybody in this city. Let's start with the student body … you need to come out and support this team because it's you. You're Vanderbilt and they're Vanderbilt."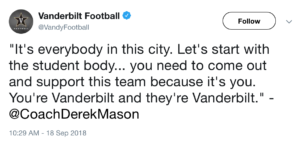 If we want an SEC-winning team, it has to start from us … from the ground up. We have to make it personal … because it IS personal … it's OUR team. OUR Vanderbilt.
So this weekend? Make it personal. Bring your family or friends who come for Family Weekend. And when Florida comes on Oct 13? Make it personal. Head out to Dudley Field, and stay!! … It'll be worth it.
Go Dores.
Anchor Down,
Brooke