Alternative rock band Paramore took over the Nashville Municipal Auditorium on Sept. 7 for what the band called "a celebration of Nashville music, art, and community." The show marked the end of their After Laughter Tour and their last show for a while until they release new music.
However, beyond the direct connections and importance this show held to Paramore and their fans nationwide (I met people in line from Los Angeles, New York, Minneapolis, Tampa, Chicago, and many others), it also served to show off the art and music scene in the band's hometown. This included installations in the venue from local artists like Brett Hunter (pictured below), MKAV, and New Hat, shopping opportunities from local thrift and record stores, and musical support from Liza Anne, Nightingale, Canon Blue, Bully, and COIN.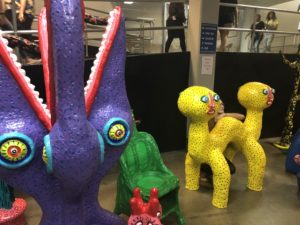 The concert itself took place in the main venue and lasted around 6 hours due to the number of support acts, all of whom were outstanding. Especially exciting was folk-rock singer-songwriter Liza Anne, who gave a powerful and engrossing performance despite her own anxiety which she alluded to at one point during her set. COIN was also a high-energy standout and prepared the crowd extremely well for the following headlining set by Paramore.
When Paramore finally took the stage, they absolutely did not disappoint. The setlist, more or less identical to that of previous shows on the After Laughter Tour, spanned their discography, leaning heavily on their latest album but including fan favorites like "Ignorance," "Crushcrushcrush," and "That's What You Get." Toward the middle of the set, the band stripped the stage for a seated, acoustic section that included a cover of Drake's "Passionfruit" as well as an incredibly vulnerable orchestral arrangement of After Laughter cut "26." Frontwoman Hayley Williams appeared to be on the verge of tears for parts of this performance, a sentiment shared by much of the audience (including myself).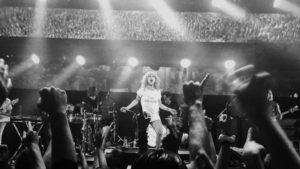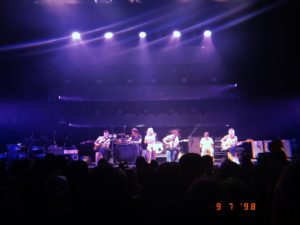 When the time came for Paramore to sing their pop-punk breakout hit "Misery Business," Williams took a moment to reflect on the way she and her bandmates had matured since the song's release ("calling someone a whore is not a cool thing to do," she shared) before revealing that this would be the last time the song would be played live for "a very very long time." In light of these circumstances, the crowd and performance were absolutely electrifying, and the nearly ten-minute version of the song felt far too short.
After an extended rendition of 2013's "Ain't It Fun," the set became vulnerable and emotional yet again with the live debut and likely only performance of After Laughter closer "Tell Me How," during which Williams once again appeared to be holding back tears. After a short break, the band returned to the stage for an energetic four-song encore including two songs from drummer Zac Farro's side project HalfNoise and closing with After Laughter's lead single, "Hard Times," which was the first song performed during this album cycle. Williams made sure to note the symmetrical aspect of this tour, which started with "Hard Times" at Nashville's EXIT/IN and closed with the same song at the Municipal Auditorium.
If nothing else, this show proved why Paramore has experienced such remarkable career longevity. At once an incredible concert in its own right, a loving tribute to the city that made them, and an emotionally-mixed goodbye to the band's favorite album and tour, Art + Friends served as a reminder of the band's incredible talent and heart.