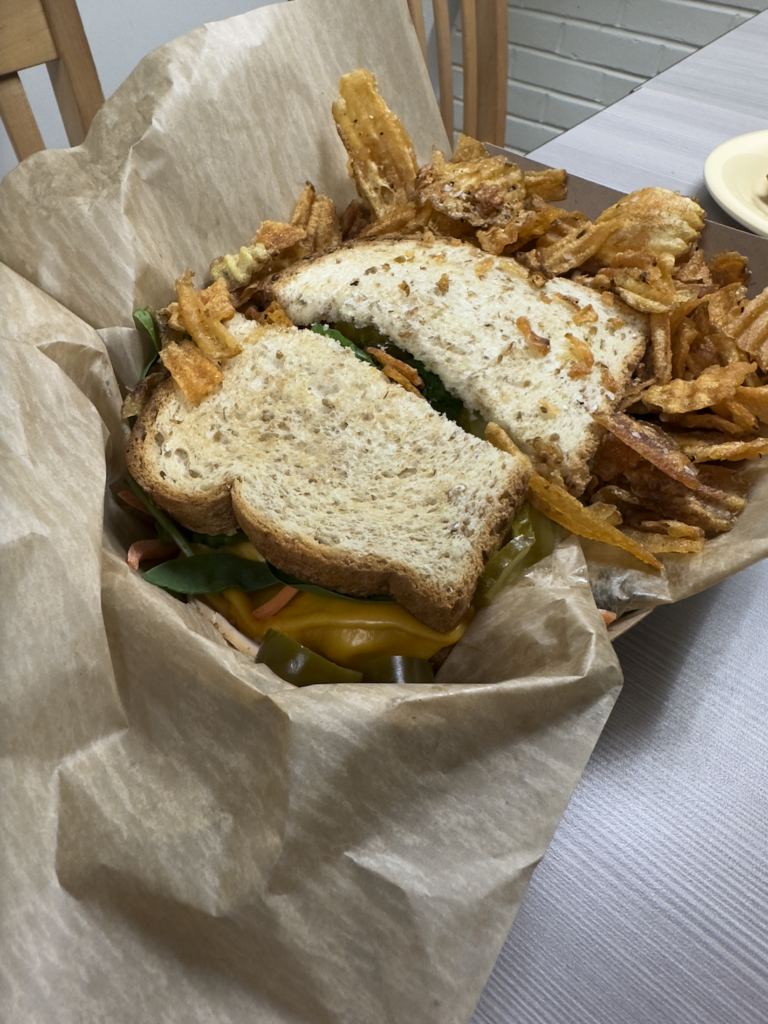 Before even arriving on campus, I'm sure many of us heard rumors and rumblings of the iconic Randwich. Was it overhyped? Would it blow your mind? (Perhaps most importantly) Did it fully satisfy your lunch needs? The swirling legend that surrounded the customizable midday creation was one of tumultuous debate. I knew that as soon as I got to Nashville, priority number one had to be none other than the Randwich. After arriving, I soon sided with the correct side of history; i.e. that it did indeed live up to the hype. Over the course of the next few lunches, I tried more combinations, more flavors, but just like Ariel from The Little Mermaid, the Roman Empire, and Kylo Ren, I wanted more. And then the idea struck me. The Everything Randwich. I didn't know if it had been done before – if that threshold had been crossed – but I knew that I must take up the quest. I spent several days twisting and turning this idea over and over in my head. What if it simply couldn't be done? I wondered. What if this mission ruins the Randwich for me forever? I simply didn't know if the sandwich gods would allow such a thing to come into existence. At first I was apprehensive, but as the days passed I steeled both my mind and courage. I awoke on Friday, September the 1st with determination in my heart and a need for wheat in my stomach. I had some nerves bubbling within me as I walked to Rand that day, not knowing what lunchtime would hold. Before I knew it I was once again standing in front of the famed dining hall, ready to fling open the door to glory.
I approached the counter with slight trepidation, the moment approaching faster and faster with each stride. I noticed the line was shorter than usual, with there being no more than three people in front of me. When I arrived at the front of the line, my order started off as any other would: "What kind of bread would you like?"
At any other time I would have immediately responded, but this was no ordinary order. I paused for a second. "Wheat, please."
Now for the second element. "Which meat?"
Again I paused. "Can I get one of everything?"
The Dining Services person on the other side of the glass offered no objection. I inwardly breathed a sigh of relief as turkey, ham, roast beef, and salami became the first layer to the sandwich. I then asked for one of each cheese, to which a slight look of perplexion was given. I smiled nervously, unsure if this would obstruct my mission; but soon provolone, swiss, American and cheddar had been piled on. As I watched the first half of my requested creation slide into the toaster, I soon began wondering if I had made a grave mistake. But it was then at this moment that a quote from Pirates of the Caribbean popped into my head: "Full-bore and into the abyss." I knew it was too late to back out now.
When my Randwich emerged from its heating chamber, it was beautiful. Four different cheeses all melting and oozing simultaneously down over a glorious mismatch of meats. Now for the toppings. This is where the fun begins. I was asked, "What toppings can I get for you on here?"
Again I asked for everything, and I watched as lettuce, tomato, onion, spinach, yellow peppers, jalapeno peppers, carrots, black olives and mayo were all placed on top of the already divine creation. It should be noted that both hummus and chicken salad were excluded as I feared for the structural integrity of the previous cargo that was my Randwich. It felt as if the Infinity Gauntlet was being assembled before my very eyes. An object made of not only unimaginable power, but of a variety of flavors as well.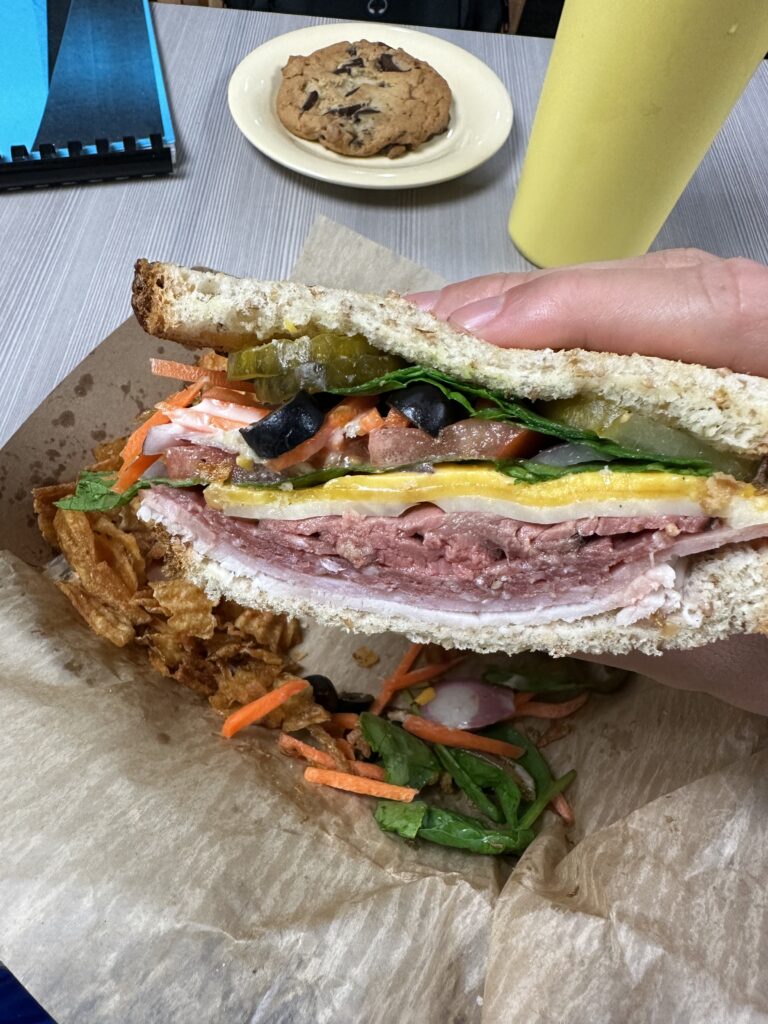 The sandwich had been completed. The die had been cast. It was now time to grab a Rand cookie and find an empty table. I made sure to find a corner table so as to best avoid detection and distraction. The first bite of the Everything Randwich was upon me. The moment was here at last. I brought it to my mouth and simply experienced. So many flavors rushed at me all at once that it was hard to make sense of it all. Everything that had come before had simply been a juxtaposition to this very lunch. All of the meats, all of the cheeses, everything full-on flooded my taste buds. It. Was. Delicious. I took my second bite. Then a third. Before I realized, I had eaten the first half and started on the second. I continued to live within my own Randwich-centric world for the next five minutes as I finished. Note: I will say that despite its numerous glorious qualities, black olives absolutely do not mix with pickles and salami. I was unlucky enough to get a few bites that had this mixture, and let me tell you, if you can tolerate or even somehow enjoy such a combination of flavors and textures simultaneously, I salute you.
As I completed my lunch and got ready to pack my things, I considered how this very article would end. I considered the (now seemingly silly) nerves I had had about ordering such a thing. At the end of the day, it was literally just a sandwich. But it had been something that I didn't know the ending to. If there's something out there that you feel the same way about, just go for it. It could be something small and dumb like just a sandwich at a college dining hall, or it could be skydiving strapped to a shark with no parachute. It might just end up being the best lunch ever.