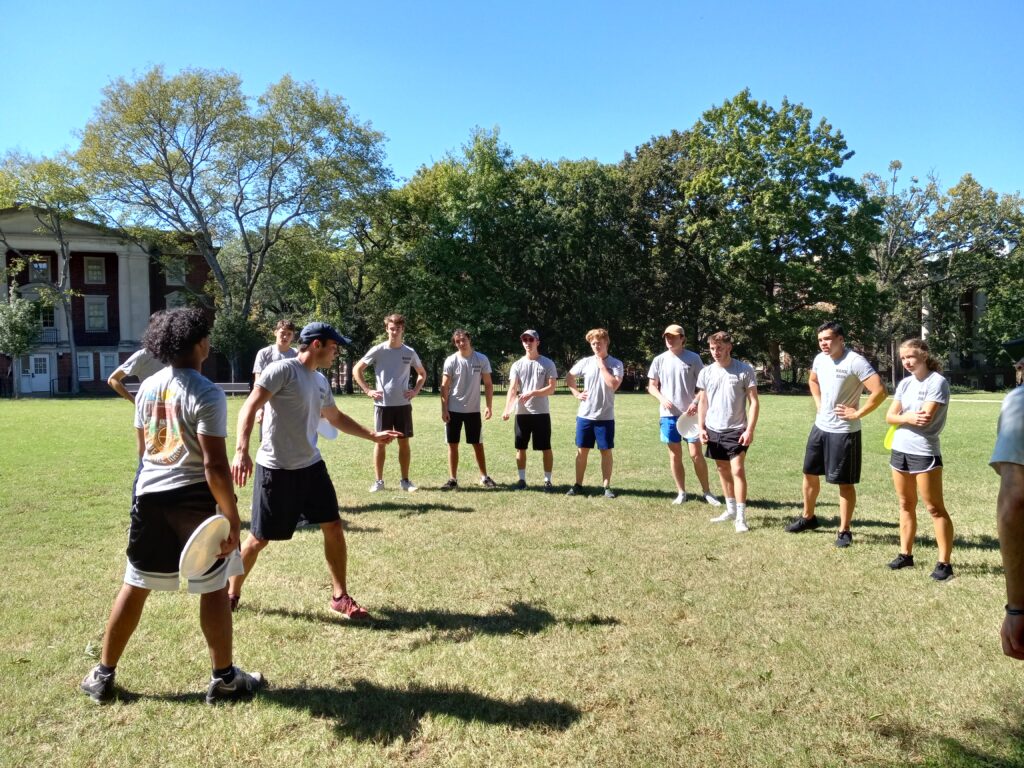 Cheering crowds. Hank victory. Kickball on the horizon. Here is all you need to know about the latest Commons Cup developments.
Ultimate Frisbee Tournament
This year's ultimate frisbee tournament was not short of excitement. The first Commons Cup athletic competition, taking place this past Sunday under the glaring afternoon sun, was the first opportunity for the Class of 2025 to compete head-to-head against the other houses of the Ingram Commons for the Commons Cup.
Tournament Overview
In the opening round, West defeated Stambaugh by four points with a final score of 7-3. Sutherland beat Memorial by the same margin with the game ending 9-5.
The quarter-finals saw a bit more diversity in scores. Murray put up a tough fight against East in their opening match but ended up losing by a single point (final score of 7-8). That nail-biter was followed by Hank crushing Crawford with a final score of 9-3, the most decisive victory in the whole tournament. Gillette lost to West 4-6 in a tough fought match. Wrapping up the round was North's come-from-behind 7-6 victory against Sutherland.
All four remaining teams – West, East, North, and Hank – fought passionately to secure their spots in the championship match. Natural rivals West and East House faced off in the first of these matches. This game saw elevated levels of roughness with multiple players being ejected. The game ended with East beating West 6-5, scoring the winning point in overtime.
The Hank vs North game was not short of surprises either. While the match started with the two teams trading points, North picked up some momentum built a commanding 7-2 lead against Hank. However, a late game rally saw Hank make a 6 point run, passing North and winning with a final score of 8-7.
After a long day of ultimate frisbee, the championship match between Hank and East began. While Hank managed to take an early lead, East closed the gap, leaving the score tied 4-4 at the end of regulation. The tournament ended as Hank scored the final, game-winning point.
The Podium
1st Place – Hank Ingram House is the house to beat. Not only is Commons' largest house the ultimate frisbee champion, they also had the largest margin of victory (6 points against Crawford) and largest comeback victory (against North) in this year's tournament. Their fan base – filling up both sides of the field – was nothing to scoff at either. If Hank can hold this momentum, they will be a force to be reckoned with this year.
2nd Place – East House is right on Hank's tail. East was dominant throughout the tournament and only lost to Hank by one point. The question still remains: Will this loss demoralize or motivate East?
3rd Place – North is back for more. The traditional powerhouse and most recent Commons Cup victor has once again proven they are still a threat. While they did not make it to the championship game, third place should give this house a boost in points and enthusiasm to help propel them forward in this contest.
Looking Forward: Kickball
With ultimate frisbee over, it is time to move on to the next Commons Cup event: kickball. The Kickball Tournament is scheduled to take place on Sunday, October 10th from 11AM-3PM. This is the second of four athletic events for Commons Cup. Like all athletic and academic events, houses can earn points not only for gameplay but also for fan support. Please note that fan support is only tracked during your house's first game. Keep an eye out for more information from your House Vice Presidents regarding the Kickball Tournament.