In the fall of my Senior year, I embarked on an extremely un-epic journey of several college tours (sporting my Stans, of course). I had no idea where I wanted to go to school, so I decided to cram five tours into the span of six days.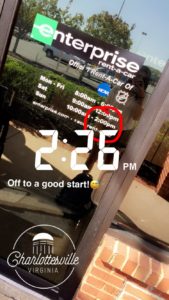 I started with a drive from NJ to DE, then packed my bags for a train ride to Charlottesville, VA the next morning. My mom and I got off the train in Charlottesville, took an Uber to the Enterprise Car pick-up, and attempted to pull open the door. When the door wouldn't budge, we realized the pick-up closed at 2:00pm on Sundays, and we were just 20 minutes too late… the already stressful weekend was not off to a good start.
After three college tours, and many many hours of driving spanning VA and North Carolina, my mom and I rushed out of a UNC tour, hopped back into the car, and drove straight to the Raleigh-Durham airport. We were extremely late, and the possibility of missing our flight became more real by the second. We needed to get home on time so that I could meet my dad and fly to Northwestern, and later, Vanderbilt.  The only thing stopping us from making the flight, though? Not traffic, not security lines… no… I was starving.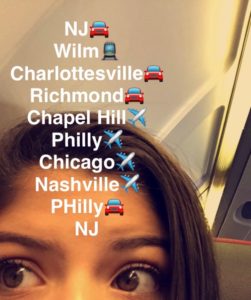 I was unbearably hungry, and for some inexplicable reason, had been craving Chic Fil A for days. The moment we got through the security line, I yelled to my mom: "I am going to get food!" She called after me, remarking that I was about to miss the flight, but I was already off… I needed to eat.
I saw an A&W Chicken, and immediately got in line. I ordered chicken fingers and french fries, paid, and stood in line waiting. But as I waited, the clock ticked on and on, and my phone was blowing up with messages: "we are boarding," "you better hurry up," "you're going to miss this flight."
I knew I had to leave if I wanted to catch this flight… so, against my hungry wishes, I turned to the guy standing next to me and said: "I have to leave. If you want my chicken fingers, you can have them!" and quickly ran off. He shouted behind me: "what gate are you at?", I replied: "C9! But it's fine, keep them!"
Running down the corridor, I slid in line next my mom just in time to scan my ticket. As I caught my breath to board the plane, I told her what happened: "I couldn't wait long enough to get my food, so I told some guy to eat it. He asked for my gate number, but I think they closed the doors."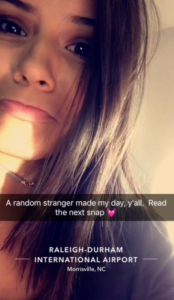 As the doors shut and the last few people piled onto the plane, a flight attendant shouted from the very first row: "Hey, special delivery! Is this anybody's chicken fingers? Some random guy said that a girl on here is missing her food?"
Somewhat embarrassed, but far more shocked, I popped my head up from behind the seat (of course, I was sitting in the very last row.) "Yeah, that would be mine," I said, and we took the awkward 54-aisle walk towards each other.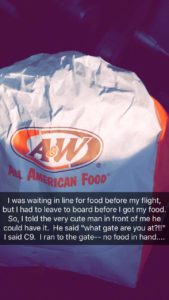 As I grabbed the bag of hot chicken fingers, my mind was spinning… some random stranger really ran down the Raleigh Airport hallway to give another random stranger my food… why???
To be honest, I have no idea why… and I really don't think there was a specific "reason", per say. Rather, it was a simple act of kindness. A way of saying "you are loved," or maybe even just a random guy thinking that some girl looked really hungry and should get her food. No matter the reason though, it was kindness. It was caring. It was a very small act that strengthened my faith in the goodness of people.
After three college tours, and so much travel, plus still having two more tours and three flights ahead of me, I really needed that food… but more than that, I really needed that act of kindness.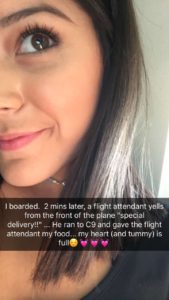 And so, I like to think about that A&W chicken sometimes. When is someone else really in need of a little boost in energy or happiness? You can't always tell what people are going through on the outside- what their stresses are, or how much their day may have sucked… So the next time I see the opportunity? I can't wait to run down the corridor of an airport… gate C9.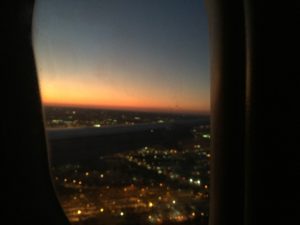 Anchor Down,
Brooke