4:00am Eastern Time– My iPhone lights up as Taylor Swift's "Bad Blood" simultaneously starts blaring in my ear. I grumble and turn over to shut the alarm off, thinking the same thing I do every morning "I hate wake-up calls", and, "I now hate this song." But this morning was different than others; this particular Tuesday morning, the early wake-up was worth it.
4:30am ET– I walk out of the garage into the Delaware humidity to see that our rented minivan is taking up my entire small driveway. The following 20 minutes proceeded as follows: *carry item to car* *pack it* *repeat*. The process continued for six Container Store bins, two baskets of shoes, 5 pillows, etc., etc. As I piled it all in, I wondered how I could possibly have so much stuff. After four years of boarding school, I thought I'd finally grasped the whole "packing light" concept, but apparently I did not.
5:00am ET– With hot coffee brewed, I piled the last item into the car: myself.
10:00am ET– I wake up somewhere in the middle of Virginia, and by noon I'm somewhere in West Virginia. Not being able to stop myself, I play John Denver's "Take Me Home, Country Roads," because, really, welcome to the South.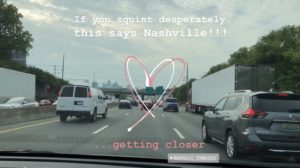 As I cross into Tennessee shortly thereafter, I begin going stir crazy. When I pass Knoxville (already excited to beat the Vols on Nov. 24) I'm checking the map every ten minutes to see my little blue dot closing in on Nashville. With under three hours left on the clock, the back pain becomes obsolete- the only thing that matters is this: get to Vandy.
6:00pm Central Time (7:00pm ET)– I finally make it to my hotel in Nashville. The minute I get out of the car, I feel a total shift. In part because I can't feel my legs, but mostly because my world feels vaguely different now. I suddenly realize why- the wait for Vanderbilt was over. Yes, the fourteen hours in the car was done, but really, the 8+ months of waiting to start Freshman year of college was finally within one day of being over.
10:00pm CT– As I climbed in bed that Tuesday night, I couldn't believe that this was my life. The next morning, I'd move into a new dorm for the first time in two years, and begin an entirely new chapter of my life. I set my alarm: "6:00am. Repeat: Never. Label: MOVE IN! Sound: Bad Blood." I closed my eyes and began to doze off, and somewhere, in the back of my mind, I heard "country roads, take me home, to the place I belong."
I'm so glad my fourteen hours on the road took me here. To Vanderbilt. To this new home.
Here's to finding where we belong, 2022.
Anchor Down,
Brooke