By: Nashville Wanderers
With the weather warming up and spring right around the corner (my inner Minnesotan is so confused right now), Walker and I decided to head downtown for this week's blog. As country music fans, and more importantly, Peter Cooper fans (the museum's senior director as well as our very own History of Country Music professor) we've been meaning to hit up the Country Music Hall of Fame and Museum for a while. The museum is located directly across from Bridgestone Arena and is surrounded by other awesome Nashville hotspots. It's around a 45-minute walk or a 14-minute scooter ride but let me tell you: it's so worth the trip. This has hands down been one of my favorite experiences in downtown Nashville and I hope that everyone takes a chance to check it out!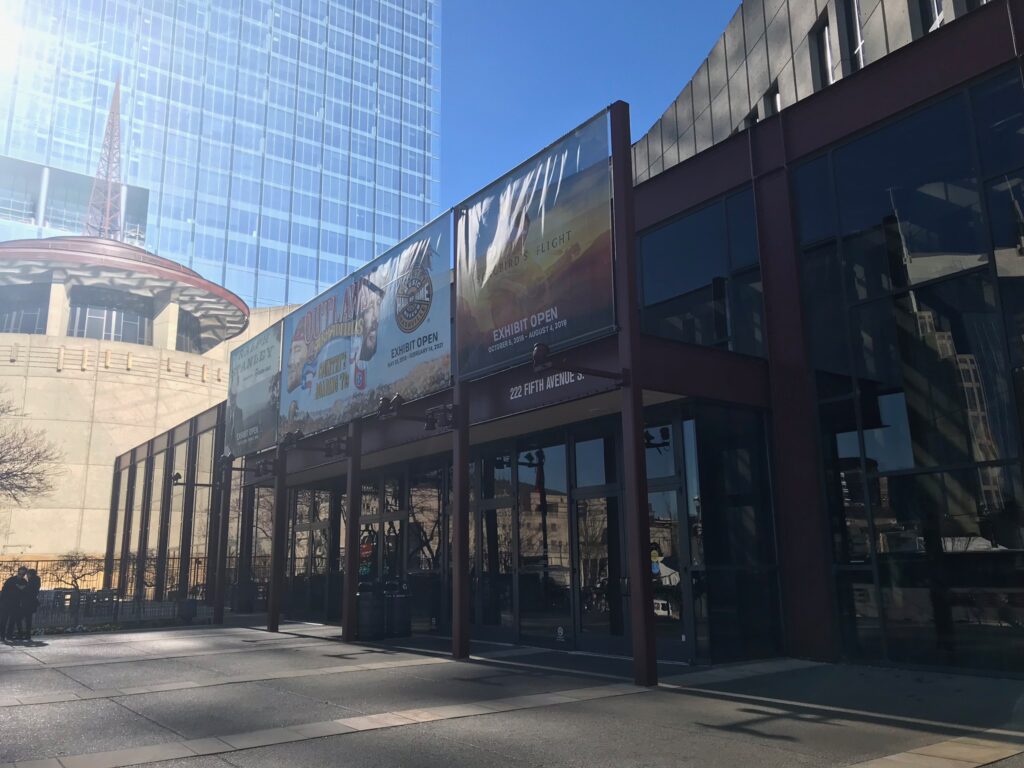 Now for an important tip before I begin. Lucky for us Vandy students, we have free access to the entire museum (shoutout to my man, Peter Cooper), but there's a specific way to get it. When you get up to the front desk, tell the staff that you're a Vanderbilt student (bring your Commodore Card for proof) and say that you're looking for their "Passport to Nashville" deal with the university. If you don't mention the name of the program directly, they aren't supposed to give you a free ticket, so don't forget this!
For our trip, Walker had scored us two tickets to see a live interview with Emmylou Harris and her Hot Band in the CMA theater inside the museum (which was led by Peter Cooper, because who else at this point?), and it was fantastic. The CMA theater doesn't have events very often, but I would highly recommend attending when they do.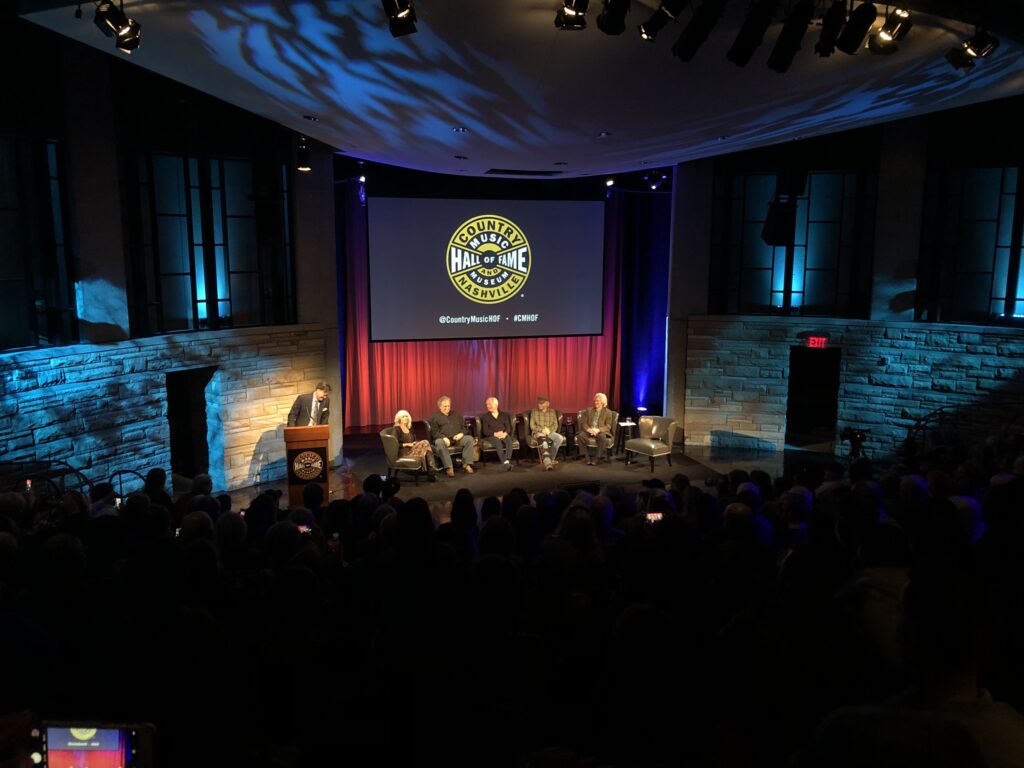 The self-guided tour starts on the third level of the building where you will promptly meet a door that leads to a Taylor Swift exhibit. Among many things, it includes two of her costumes from her "Look What You Made Me Do" music video which was super exciting to see. Past her exhibit, however, is where you'll find all of the original country music stars. Rows and rows of glass cases are filled with instruments and clothing owned by the most influential country music artists of all time. They've got glass cases for Jimmie Rodgers, Roy Acuff, Kitty Wells, Elvis Presley, DeFord Bailey, Charley Pride, and more. You name a country artist, and they've got a costume and guitar from them.
As you can see in the photos below, Walker and I found that the second floor was definitely our favorite. Along with the museum's advertised Outlaw Movement exhibit (shoutout to the billboard on Hillsboro that advertises it), interactive screens and games all over the place. The interactive sites include creating your own song title, writing a song (where we, of course, spelled aNcHoR dOwN), finding your future music-related job, designing an album cover with your face on it (scroll down to see Walker's horrifying album cover), and recording your own demo in a definitely not soundproof "recording booth" karaoke station (two of the four song options are Taylor Swift songs? … there might be a trend here.)


ANCHOR DOWN

Inside the Karaoke Booth

Walker's New Single

The Outside of the Interactive Station

Walker is Destined to be a Music Producer
Another part of the second floor was dedicated to artists starting from the 1990s to today. Toby Keith's shirt that he wore in "I Love This Bar," Carrie Underwood's dress she wore during the finale of American Idol, and Taylor Swift's dress from "Love Story," are some of the many iconic memorabilia that are kept there.
Jason Aldean and Taylor Swift

Keith Urban, Tim McGraw, and Faith Hill
One of the more random things in the modern country exhibit was a giant guitar that you could climb inside, and of course, photos were immediately taken. I accidentally walked in front of a seven-year-old girl to get said photo and that is the moment that I realized I needed to chill out a bit — my photo still looked bomb though (thanks Walker). Next to the guitar is a beautiful view glass window view of downtown where I attempted to have Walker take a photo of me pointing to the Batman Building (only my favorite building in all of Nashville). Sadly, he's still working on his photography skills, so I had to (poorly) edit the photo to do the building justice (please excuse my wonky hand).
After editing (aka I'm good at editing) 🙂

Pre-editing (aka Walker sucks at photography)
The best part about the Country Music Hall of Fame and Museum is that it never gets tiring. There are so many artists to appreciate, exhibits to view, and activities to try that you learn something new every time. Walker and I have already gone back since our first trip (cause free trips are the best trips) and it feels just as inspiring and fun walking through again. So if you're looking for a good time, trying to learn anything about the music history of Nashville, or you just really want to be surrounded by Taylor Swift promotion, the Country Music Hall of Fame is the place for you.
And a quick note to my man Peter: you guys either really know how to market to the teen girl demographic, or you are using your chair as senior director to proclaim your love to Taylor. Either way, I love it.
Country Music Hall of Fame and Museum Hours: https://countrymusichalloffame.org/visit/hours#.XJmuflxKg2w

Peter Cooper's History of Country Music Class:
1640 History of Country Music