I love meat.
I love chicken tenders with my fries, pork belly in my ramen, and beef bulgogi in my Kissam bowl. Growing up with parents who cooked Filipino food every day, I never truly had an opportunity to explore a different way of eating. As someone trying to be more environmentally conscious, I thought it would be worth a shot to explore being vegetarian on campus. It would also give me an opportunity to see how accommodating Vanderbilt's dining really is.
And – I'm okay with passing on the dry chicken.
In order to develop as organic an environment as I could, I didn't do any specific planning beforehand, and instead planned my meals as I would any other week. This usually consisted of going on NetNutrition the day of or the night before to get a sense of what would be served throughout the day. I was also able to get some recommendations from a friend, who opted to join me on my week-long challenge!
Although I did my best to stay on campus to eat during the challenge, the restricted hours were more of a struggle to work with than I had originally imagined. Regardless, I tried to diversify my vegetarian meals as much as possible.
Day 1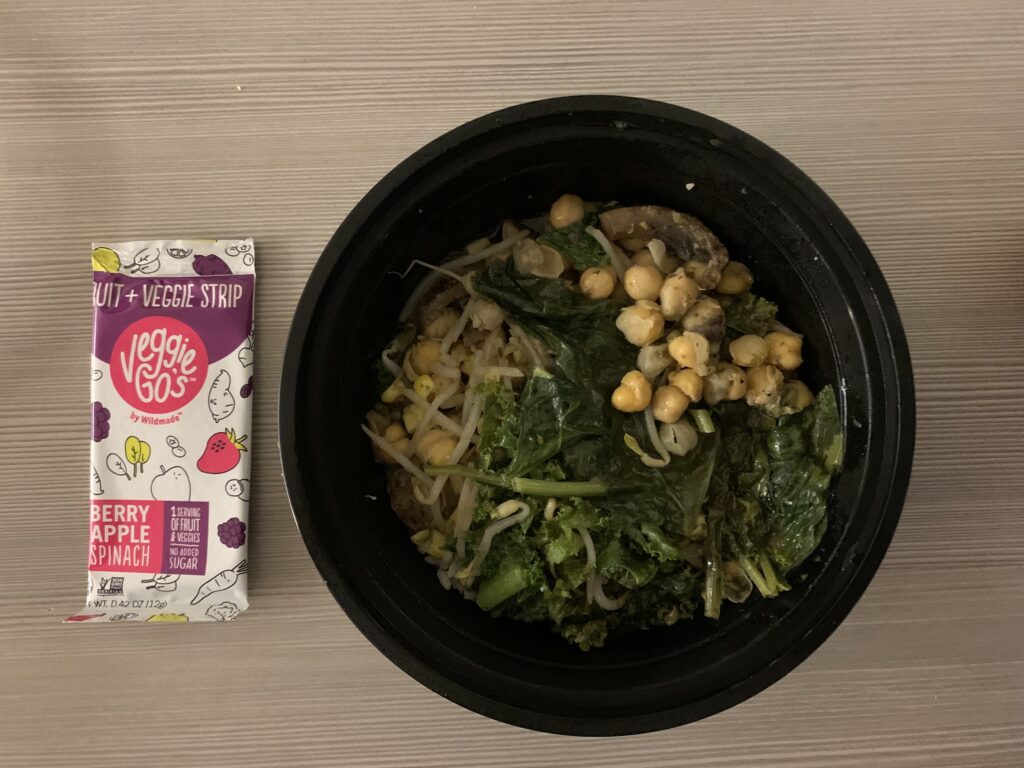 Perhaps I should preface with the fact that I usually don't eat breakfast in the morning, simply because I wake up too late for that. My lunches arent incredibly heavy either because my afternoons are usually pretty filled with classes or meetings, so finding the time is hard. On the first day, I opted for a 2301 smoothie and side potatoes for lunch, and a classic 2301 sautee bowl for dinner. I usually get sautee bowls without meat anyways, so this meal wasn't too different from my day-to-day.
Day 2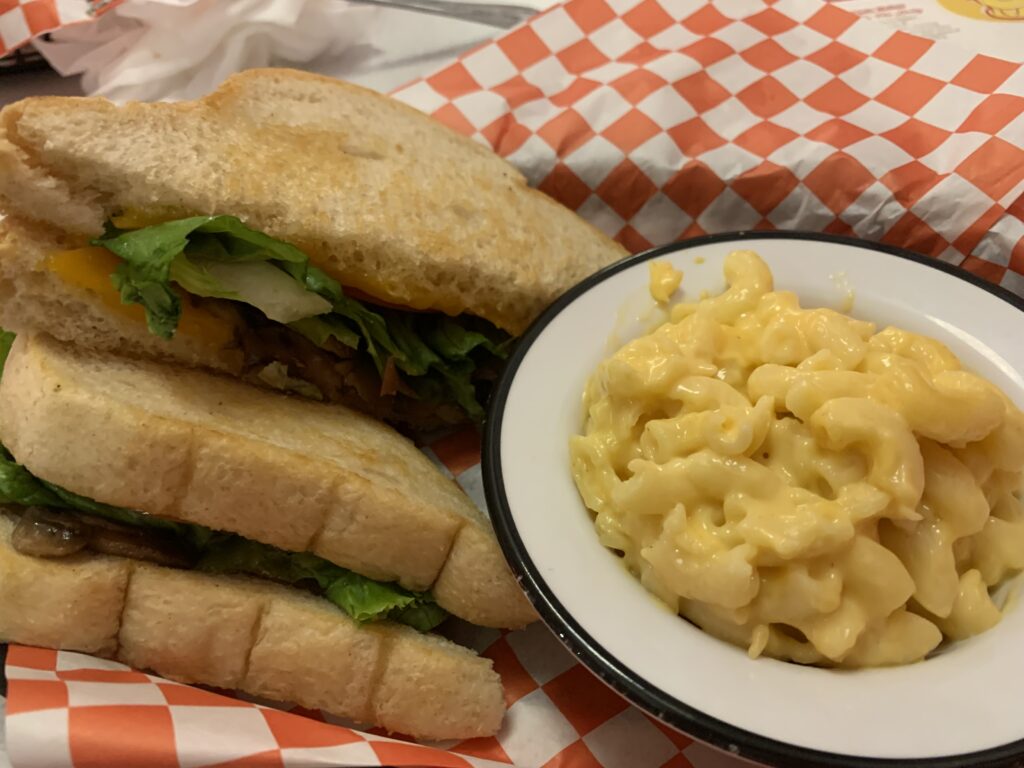 Grins is probably my favorite place to eat on campus; I'm an absolute hoe for their daily specials, so it's no surprise that I would eventually end up there during vegetarian week. Unfortunately, Grins has been experiencing delivery shortages, so their menu hasn't been completely poppin' all the time. Nonetheless, I had the plumpest bagel I've ever had in years, and their vegan cream cheese was surprisingly refreshing. In my opinion, it's a big win on lunch.
For dinner, some friends and I went to Elliston Place Soda Shop, a Taste of Nashville restaurant! Here, I had a grilled cheese sandwich with lettuce and tomatoes, a side of mac and cheese, and a shared plate of fried pickles. Overall 10/10. The servers were so nice and funny; I think they're probably the best ones I've encountered since moving in, so the interaction definitely added to the dining experience. My favorite part was probable dessert, which was a lemon icebox pie. It's literally a frozen lemonade from Chick-fil-A made into a pie. If that doesn't scream heaven, I don't really know what does.
Day 3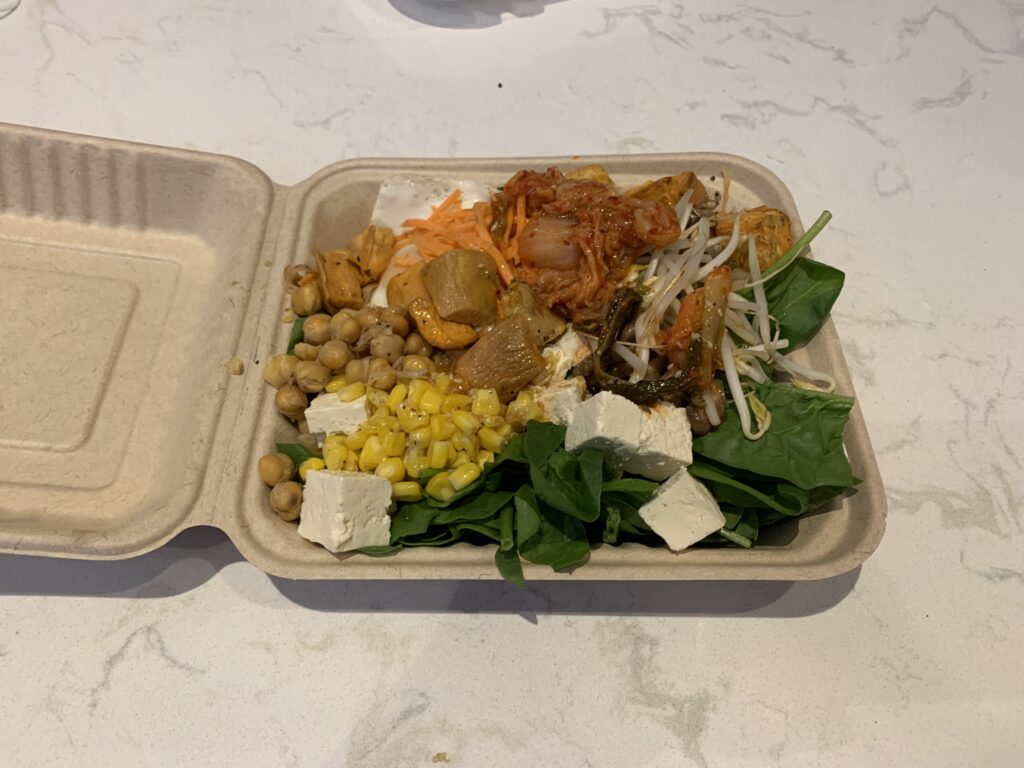 Lunch was pretty basic, which featured hummus and veggies from Suzies and a veggie roll from Rand Grab N' Go. There's nothing much to say about these because veggies are veggies, and Vandy sushi is pretty comparable to grocery store sushi. For dinner, I had a Kissam bowl, which is easily one of my favorite dinners on campus. This week, however, was pretty disappointing. I decided to add tofu to compensate for the lack of meat, but it was a terrible (yet anticipated) mistake. I'm not sure what I expected with raw tofu, but I felt like I was eating a damp stress ball. It made me sad. The rest of the bowl's components were passable.
Day 4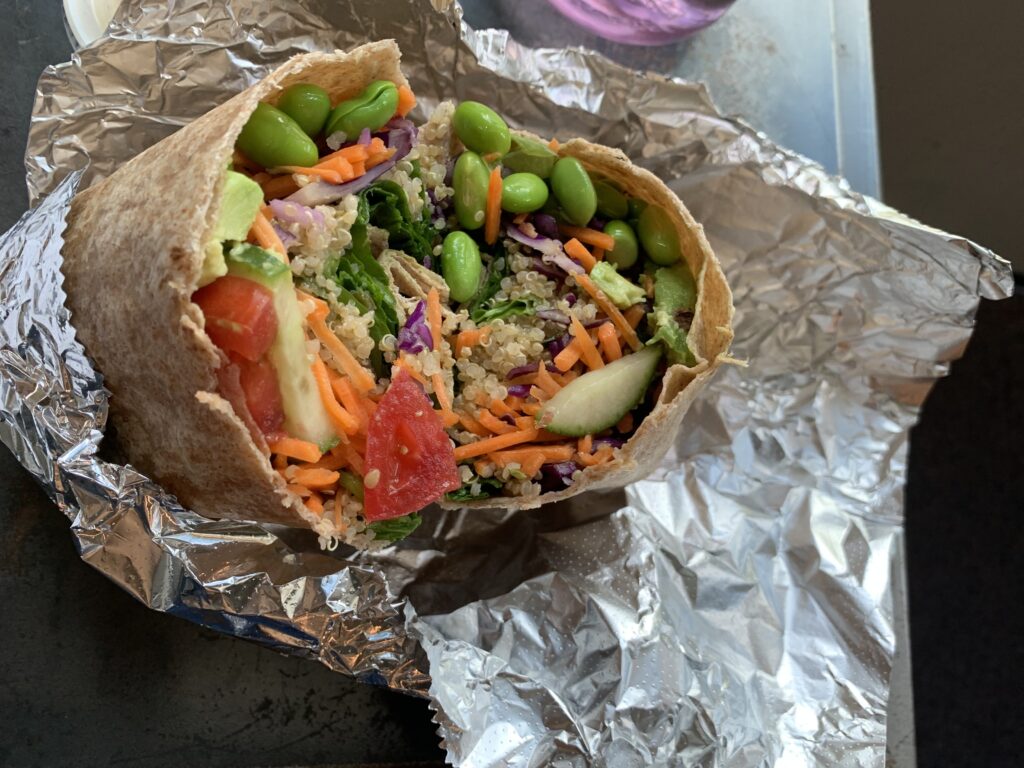 For lunch, I went to Grins and ordered their superfood wrap. All I can say is I'm obsessed! Visually, it's gorgeous and the rainbow of colors instantly makes you happy. It's composed of literally only vegetables and quinoa, with a side of tahini sauce. I guess sometimes simple is what is phenomenal. For dinner, I had a Kissam acai bowl, which was anti-climactic compared to the wrap. Kissam acai bowl are passable, but they are definitely no Grain and Berry.
Day 5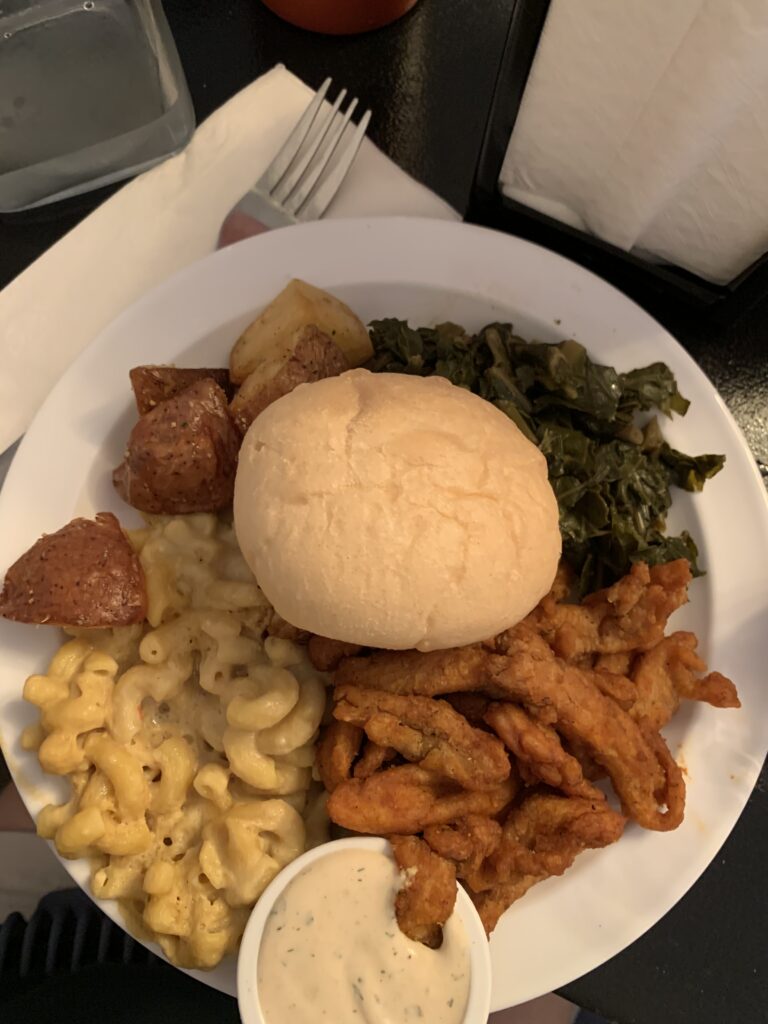 For lunch – surprise, surprise – Grins again! This time, they had an olive tapenade sandwich as their special, and I was so excited!!! I grabbed it from the fridge, found a place to sit, unwrapped it, and took a bite. I think there was too much tapenade for my taste. It overpowered the other vegetables, and covered my mouth with enough salt to last me another week. The tapenade itself was lovely, but its hyperdominance was simply not it.
Fridays are chill days, so my friend and I decided to treat ourselves with some vegetarian meat off campus. We went to Vegelicious, a restaurant that serves vegetarian-friendly Southern soul food. I ordered the SoulChik Plate Hot, which came with hot fried chicken, home fries, mac and cheese, and greens with a roll. I finished with a clean plate – it was sooooo good! The sides were all 'vegelicious,' and they reminded me of food from my hometown in south Georgia. The 'hot fried chicken' was honestly interesting. It was good, but I think the slices made it feel off. They were incredibly skinny strips, and resembled fries more than actual chicken. The texture itself was passable and reminded me of day-old McDonald's chicken nuggets, and the flavor was more similar to buffalo chicken than your average Nashville hot chicken or something similar. Nonetheless, I thought it was still awesome, especially since it was vegetarian.
Day 6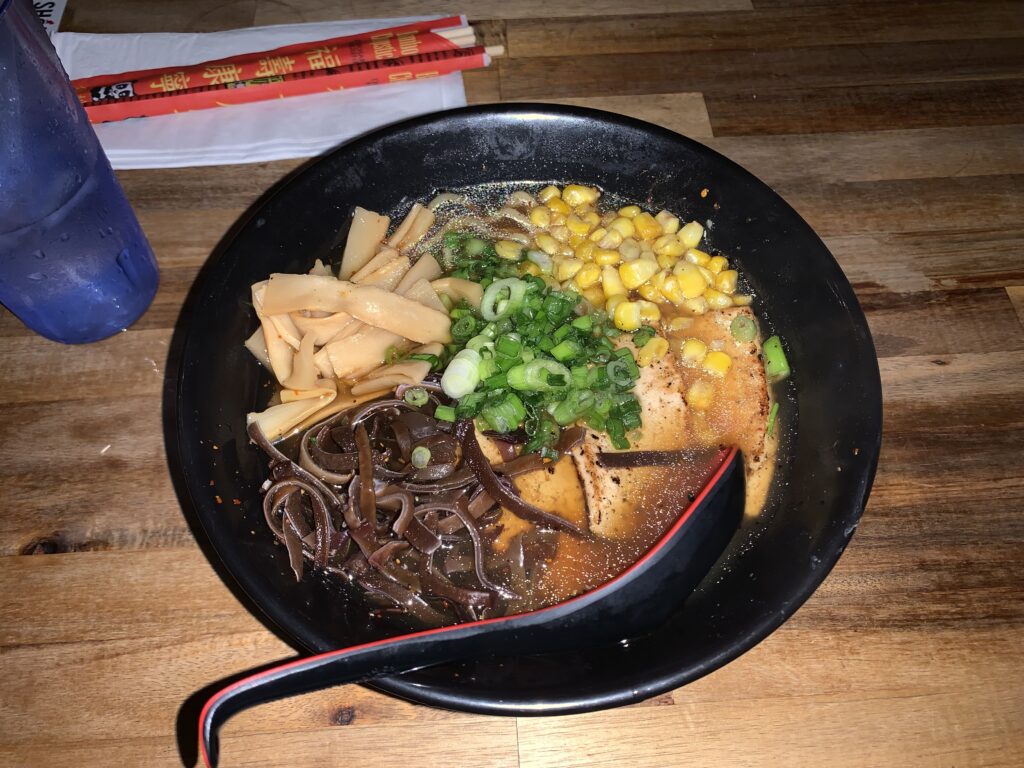 On Saturday, my friends and I decided to visit Opry Mills, where we had lunch at their food court! There were pretty limited options, so I opted for a vegetarian caprese from Green Leaf's Beyond Great Salads. Day 6's dinner was vegetarian ramen from Shokku Ramen, which is also a part of the Taste of Nashville. I usually get pork broth and pork belly with my ramen, so the mushroom broth was a refreshing surprise. I was worried that the lack of meat would result in a negative ramen experience, but I actually left satisfied.
Day 7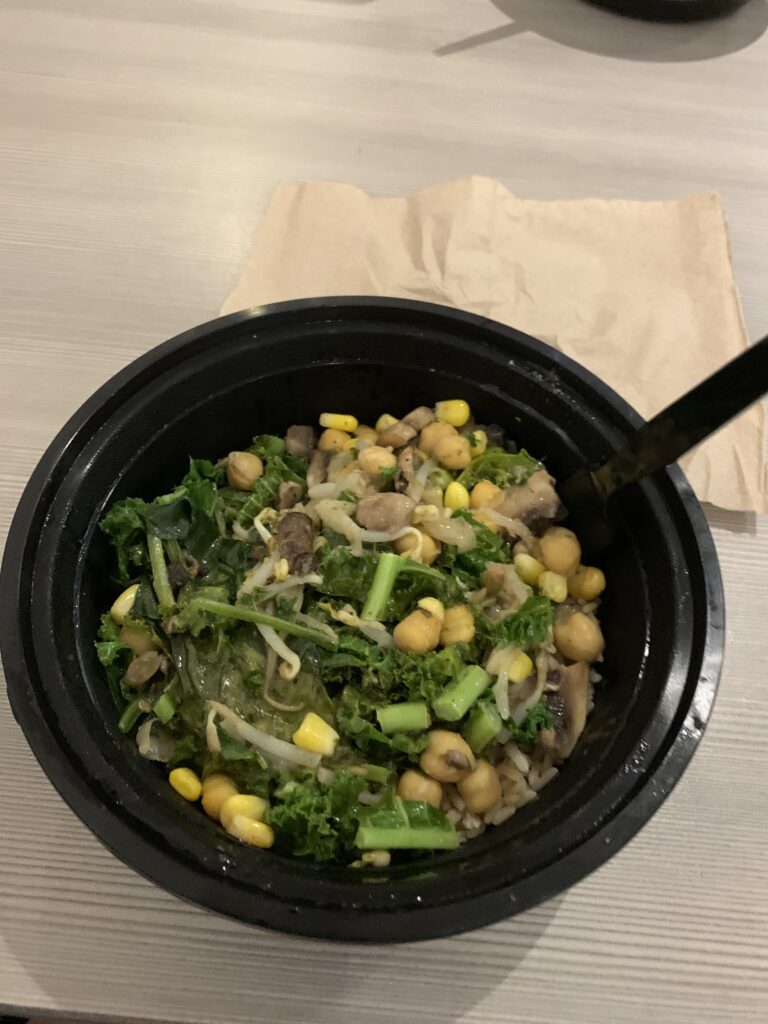 My last vegetarian day was honestly pretty boring; I had some oatmeal from Munchie for lunch, and a sautee bowl for dinner. Although it didn't end with a bang, I think my dinner allowed it to go full circle.
Final Thoughts
Coming into campus, I found out that I wasn't exactly the biggest fan of their meats, specifically the steak or chicken, because they're usually dry and unseasoned. Given this and my unnecessary love for Grins, vegetarian week felt incredibly natural. However, I recognize that not everyone wants to walk to the other side of the school for decent vegetarian options. When I checked the menus for Commons, EBI, or Zeppos during the week, I saw their vegetarian options weren't the greatest. It often consists of the same rotating foods: roasted veggies, tofu, the occasional vegan Korean chicken, rice, pasta, and salad. It seems that the stereotype of 'vegetarian food' is perpetuated through these lack of options. We've often seen vegetarians to eat simply that, when their palette extends beyond. Vanderbilt has definitely taken some steps to provide options for those with dietary restrictions, but there's still a long way to go.
I don't think I'll stay vegetarian because I like birria tacos and pork dumplings too much. However, this experience has put to light that I'm fully capable of decreasing my meat consumption. Perhaps one day I'll move to California and be able to fully immerse myself in the vegetarian lifestyle, but for now, I'll continue ordering pork in my ramen.