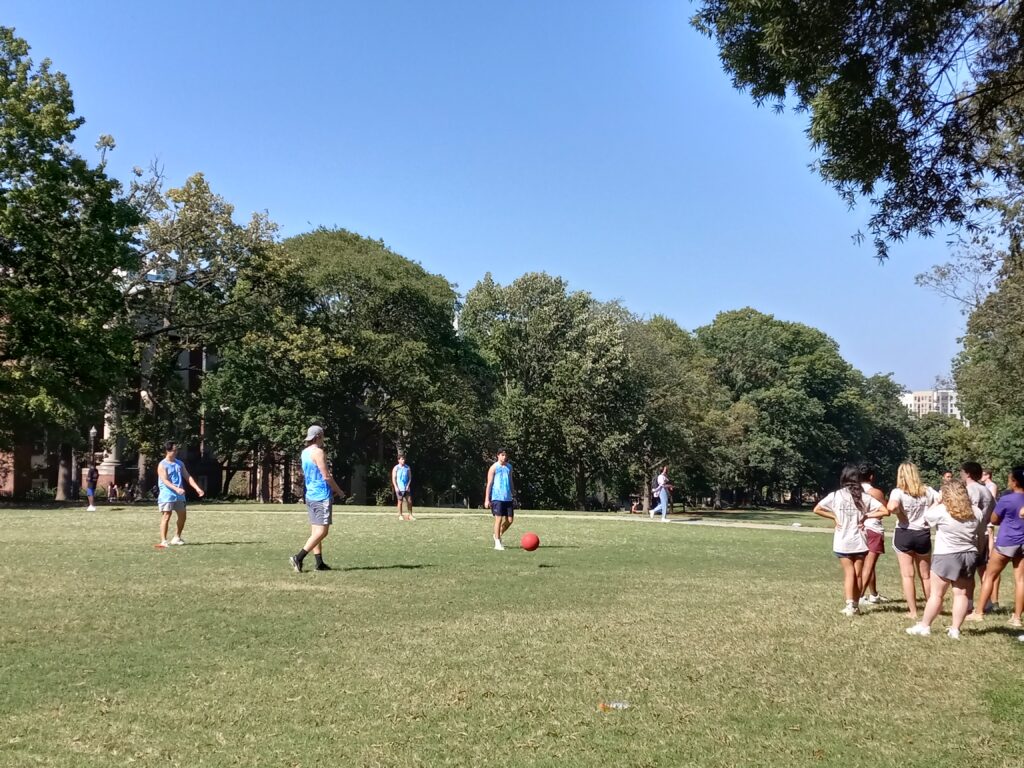 Kickball cut short. No official victor. Commons Unplugged fast approaching. Here's what you need to know about the latest developments in the Commons Cup.
Kickball Tournament
This past Sunday's kickball tournament was the most shocking event of this year's Commons Cup. The ten houses gave everything they had to fight for victory in this second – and final – athletic competition of the Fall Semester. (Don't worry. There will be more athletic events in the Spring.)
Tournament Overview
The competition began with a fierce battle between Memorial and Gillette that lasted around 40 minutes – twice as long as the standard regulation. Although both teams gave it their all, Memorial edged out in the end with a 6-5 victory. The following game between East and Sutherland was also fought tirelessly, but after a discrepancy regarding the number of outs East had and a subsequent argument with the referees, the game was ended abruptly, handing Sutherland a 6-5 victory.
The second round did not see quite the same level of intensity as the first. It began with West beating Stambaugh 4-2, and was followed by North fending off Murray in a 7-5 victory. The largest story of the second round was the next game between Commons' largest and smallest houses: Hank and Memorial. Although Memorial was coming off an early win, Hank crushed the house in a decisive 14-2 win. What followed this blowout was the closest game of round two with Sutherland barely holding off Crawford in a tight 6-5 victory.
The semifinals saw a familiar final four to the Ultimate Frisbee Tournament: Hank, North, and West – all semifinalists in ultimate frisbee – were joined by Sutherland to compete for the podium. The first match saw West take an early lead against Hank. While Hank did make a late-game comeback, West maintained the lead, winning in a tight 6-5 victory. The game between North and Sutherland saw the opposite happen with both teams spending most of the game neck-and-neck, and Sutherland then taking a substantial lead late in the game. North was unable to close the gap, and Sutherland won 6-3.
The championship match provided a chaotic end to a chaotic afternoon. The game began with West building a massive 5-0 lead. Sutherland, however, managed to close the gap with a four point rally. Then one of Sutherland's players suffered a major injury. After some time, the game was declared a tie. Because of this, neither team was awarded first place.
The Podium
1st Place/2nd Place – Sutherland made their presence know. While their performance in Ultimate Frisbee saw them fall short of the semifinals, they did not fall short in kickball. It should be noted that Sutherland won three kickball games before the final match. This number of wins would have been enough for any of the other semifinalists to win the championship outright, but due to Sutherland's position on the bracket, they needed to win one more game to take home the win. One thing is for sure: Sutherland should not be ignored.
1st Place/2nd Place – West is a force to be reckoned with. Though they barely missed the podium in Ultimate Frisbee, they still were a top team. While the final game ended early, West did hold the lead for the entire game. Don't be surprised if you see this name on the podium again.
3rd Place – Hank is back for more. The Ultimate Frisbee Champion is the only house to make two podium appearances. Although they fell short of reaching the championship game, Hank still delivered a massive 12 point defeat to Memorial. With its strong performances in both athletic events, this house should be feeling pretty good right now.
Looking Forward: Commons Unplugged
Running from October 31st through November 6th is Commons Unplugged Week. This weeklong series of events focused on helping the environment consists of three major events: Green Activity, Green Forum, and Energy Conservation
Green Activity
This is an event where first-years can get practice working on campus sustainability. Attendance is tracked and counts for points. The details of this year's Green Activity have yet to be released, but it will take place some time during Commons Unplugged Week. Make sure to be on the lookout for announcements from your house.
Green Forum
This is a lecture on conservation and sustainability that will take place on November 3rd from 7-8PM in the Commons MPR. Attendance is tracked and counts towards Commons Cup.
Energy Conservation
During this week, each house's energy use will be tracked and compared to that same house's energy use during Commons Unplugged week in 2019. The goal of each house is to reduce their energy consumption by as much as possible. Points are awarded based on how much energy each house conserves compared to 2019.
*Disclaimer: Daniel Sak, the author of this piece, is the Vice President of Hank Ingram House and was a member of the Hank Ingram kickball team.