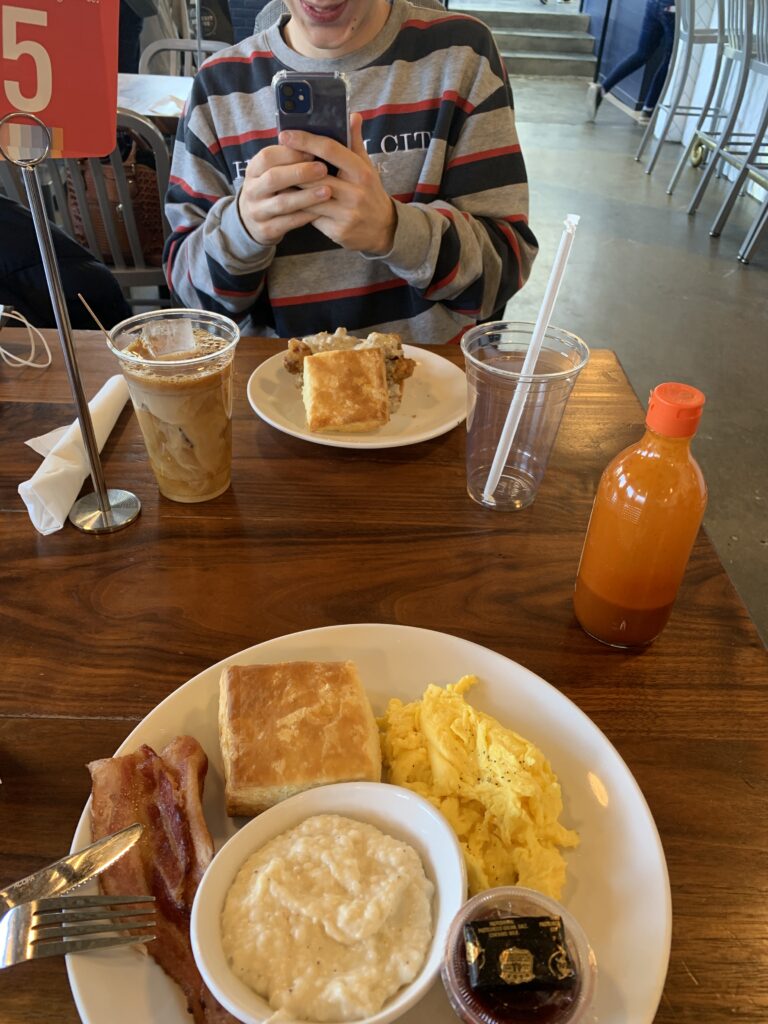 I have found the most amazing breakfast place. Well, I didn't find it, and loads of people already know about it, but it has become my newest obsession. It also has transformed me from a "Breakfast Hater" to a "Breakfast Lover." Biscuit Love in Hillsboro Village on Belcourt Avenue is my new favorite food spot. It serves mouth-watering breakfast foods with a southern twist. Of course, they are known for their biscuits, since it's literally right in their name, but they also serve some amazing fried chicken to tie the meal together. But, I haven't even gotten to the best part! Biscuit Love is on the Commodore Card! Hoorah for our college-student wallets!
I must say my journey to become a Biscuit Love fanatic was not smooth. I have never really been a fan of breakfast food. I would eat the occasional pancake or waffle, but I never really had a huge affinity to the stereotypical foods eaten in the morning. The first time I went to Biscuit Love was actually with my Dad when I first moved into college in the fall of 2020. We went on a Sunday morning before he left to return to my home in Maryland, so I may be biased when it comes to this place because it was the beginning of my Vanderbilt experience. Yet, the food alone supports why this place is a must for any freshman looking for a cozy and chill breakfast spot.
My Dad ordered the S.E.C., which is a warm buttery biscuit topped with sausage, a scrambled egg, and a gooey slice of cheddar cheese. I was overwhelmed at first by the options and slightly scared because I wasn't a huge breakfast food fan. Eggs are an enigma to me: sometimes they taste good, other times they taste like eggs. I also hadn't eaten the traditional southern meal of biscuits and fried chicken. So, I went the safe route and got the Egg Plate, which had scrambled eggs, a biscuit and jam, cheese grits, and bacon. We were seated in the back, which is a really cool quasi-patio. The windows have a slight reflection, so the place looks bigger than it actually is. The food came out quickly and the service was amazing.
We dug in, and the food was divine. The biscuit melted in my mouth, the eggs had a savory buttery flavor that did not disappoint, and the bacon was sooooooo crispy. I don't think my dad and I talked for the first 10 minutes as we devoured our first Biscuit Love meal. I was surprised at how much I had enjoyed my first southern breakfast. I had been to iHop and some small-town breakfast spots, but none of them quite hit the mark. I began to have a new appreciation for breakfast food, and subsequently, I ventured into uncharted territory within this food realm. I tried dishes called East Nasty, the Bonuts, and the Southern Benny. Side note, aren't the food names so stinkin' cute???
Ever since my first Biscuit Love experience with my Dad, I have brought everyone I care about to this cute spot. I brought my friend Emilio to celebrate his arrival to America to study at Vanderbilt, since he was remote in the fall in Portugal. I went with some of my girlfriends to celebrate Valentine's day. I also frequently go on easy Saturday mornings with my friends to just chill out and catch up. It's a special place with an unmatched energy. The staff is lovely and they really care about their community. I have seen them helping people without homes with their warm meals and warm hearts. I know that it is late in our freshman year, so you may have already heard about this place. But, I urge you to go to Biscuit Love, try the East Nasty with scrambled egg, and make a new friend over some amazing breakfast food.