Between phrases such as "squirrel brained" and "he ain't got the brains God gave a squirrel!" people throw a lot of shade on a squirrel's intellect. Does the squirrel deserve this reputation, or does it actually deserve an apology??? This week's installment in the squirrel series looks at how squirrels pick what nuts to cache. Future installments will further examine aspects of a squirrel and its caches.

TO CACHE OR NOT TO CACHE Multiple studies have found that squirrels more often finish eating white oak acorns than red oak acorns. Squirrels typically eat the entirety of the former, while eating closer to half of the latter; they bury the remaining red oak* half.
Many researchers attribute the difference in treatment of white versus red to the concentration of the acorns' tannin. Tannins are sour proteins that are found in dry wines and in tanning leather. For several reasons, the squirrels prefer white oak acorns, which have lower tannin content. Over time, much of the tannin will have leached out of the red acorns, making for more desirable meals. Once some time has passed, the squirrels will return to their red acorns.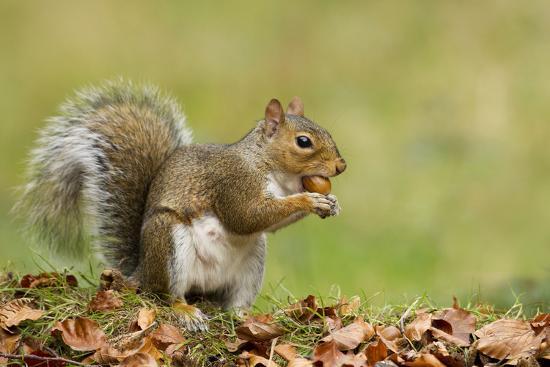 Other research suggests perishability plays a large role in caching, too. A 1996 paper featuring the Perishability Hypothesis attributes the difference in acorn treatment primarily to perishability instead of taste. White acorns are known to germinate soon after their autumn maturations, thus qualifying for a high perishability rating. Red acorns, on the other hand, remain dormant throughout the winter, waiting until spring to germinate. Therefore, they have low perishability. Researchers consistently found that squirrels cached more red than white. When the squirrels did cache white ones, they first chomped away the embryo of the acorn, keeping it from germinating in its time in the ground.
*Identifiers white oak acorn and red oak acorn here are sometimes abbreviated to white acorn or even white. It should be understood that when white acorn is said that does not mean the acorn is actually white.
So that's that. It goes without saying that no one can be absolutely sure what goes through a squirrel's mind. However, research so far described is leaning toward the side that the squirrel deserves an apology. Future investigation will provide further insight.
BE SURE TO READ NEXT WEEK'S INSTALLMENT IF YOU WANT TO BETTER UNDERSTAND A SQUIRREL'S CACHING PROCESS.