For those of you who don't know, October is squirrel awareness month. Now, I imagine you're thinking, "Hmm, what is the best way to celebrate such a momentous occasion?" Well, never fear, my friends. Word on the street tells me that a published mini-series on the squirrel is an acceptable form of celebration. Prepare yourself for the first installment of such a series.
This week's article covers basic anatomy of the squirrel, describing how it scurries the way it does.
A squirrel is able to perform its acrobatics through three primary features: feet, claws, tail.
A squirrel's back feet (also called paws) are double jointed. This trait allows them to easily and quickly spin to a different direction while in motion. A squirrel's sharp sharp claws enable purchase on practically any surface. Working in conjunction with the spinning back feet, a squirrel can hang dangle itself down a tree trunk; the double jointed feet allow the animal to maintain an upward facing stance while dangling, and the sharp claws ensure that the animal can remain dangling (White, 2016).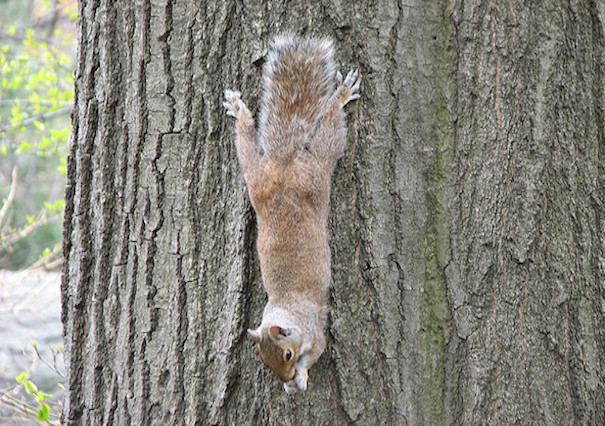 As is the case for most tails, a squirrel's tail helps maintain balance. Seeing as squirrels spend lots of their time scampering about on tree branches that have diameters smaller than those of pill bottles, it is understandable that a squirrel's evolution has decided to keep the tail.
When the squirrel becomes too off balance for the tail to manage, the tail can work to compensate for its failure. As a squirrel falls, its tail acts like a parachute. The hairs separate, catching as much air as possible and slowing the animal's fall (Wall, 2018).
A couple other notable facts about a squirrel's anatomy include:
A squirrel's teeth never stop growing, which means they can continue eating nuts without worrying about their teeth dulling into nothingness.
            The world's largest squirrel is considered to be the Indian Giant Squirrel, which weighs about 4 pounds and can reach a length of 18 inches (Bittel, 2019). For more information check out Bittel's link pasted below.
Return next week to read more about campus' most prevalent non-human resident.
(Bittel, 2019): https://www.nationalgeographic.com/animals/2019/04/indian-giant-squirrels-colors-camouflage/
(Wall, 2018): https://nuscimag.com/simple-squirrels-or-physics-prodigies-69e6b2ebd70c
(White, 2016): https://asknature.org/strategy/sharp-claws-increase-vertical-agility/#.Wqv3bFnwYsl