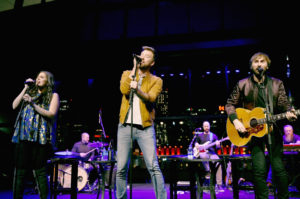 Nashville, TN- Lady Antebellum plays at the Country Music Hall of Fame for Music Happens Here
Lady Antebellum is one of the premier country trios that have been ranking on the charts over the past eight years. If you aren't familiar with them, kick back into your memory and think about the jams you listened to in the fifth grade. You most likely remember a song called "Need You Now." Well that was a #2 billboard chart hit and my #1 elementary school bop by Lady Antebellum.
Lady Antebellum performed Friday, Nov.10, at the Country Music Hall of Fame for the Hilton Honors promotion "Music Happens Here". Music Happens Here is a partnership between Hilton, Spotify, The GRAMMYs, and LiveNation to spread live music performances and traveling opportunities to Honors members. Hilton Honors is a benefits program available to people who book through Hilton. Nashville is only one of the cities that Music Happens Here has as a destination with London, Los Angeles, New Orleans and Seattle being the others.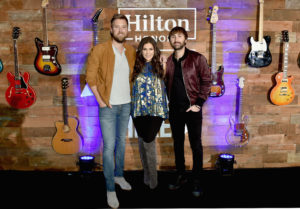 The members of Lady Antebellum, accompanied by their longtime band, put on a great show playing an even mix of both old and new songs. A very special moment was their dedication of the song "Army" in honor of the veterans and veteran families in the room. Another great moment is when Charles Kelley being the silly, lovable person that he is, hopped off stage to dance with a woman in the crowd. While still singing. He also decided to sing a snippet of Josh Groban's "You Raise me Up" after fellow band member Hillary Scott made a joke about how you never attempt to sing songs by Whitney Houston, Chris Stapleton, or Josh Groban.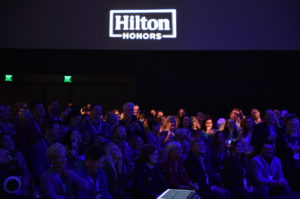 Not only did the band put on a performance full of chemistry but the performance room had an amazing view of the city behind the stage. The view of the city coupled with the soft purple lights of the room had an almost magical feeling to it.  If you haven't visited the Country Music Hall of Fame Museum yet I would definitely recommend spending your next free day there. Here's the link:
http://countrymusichalloffame.org/ContentPages/visit
Amira Vivrette, A fellow Vandy 2021 member from Casa de Sutherland shared her thoughts about the show with me:
"The concert was amazing! There was a lot of energy in the room from the crowd and the band. The band members were absolutely hilarious. They made lots of jokes that really allowed the crowd to connect with them. As for the venue, it had a beautiful view overlooking downtown Nashville. Overall, the event was phenomenal and well organized."
I would definitely have to agree with her statement! Keep an eye out for Lady Antebellum's next visit to Nashville as well as for the upcoming performances in the Country Music Hall of Fame.
Photos provided by Hilton Music Happens Here